QCT5 Tier Comparison
Which tier is best for you?
This table shows a comparison between the QCT5 Beginnings, QCT5 Pro, and Gold Card Access tiers.
See the section below the table for more information about QCT5 Card Access.
FEATURE:
QCT5 Beginnings
QCT5 PRO
Computer automated quilting
Library of over 200 patterns
Continuous rows with PantoStacker™

Limited

Regular
Open patterns of different file types
Easy pattern sizing, rotating and flipping
Batch import and convert other file types
Easy edge-to-edge quilting
inForm: tutorials, help, and tips
Rulers and centering
Print any pattern or pantograph
Advanced Pattern Placements Options
Create and edit patterns with PatternCAD™
Design entire quilt layouts with QuiltCAD™
Record free-motion quilting as patterns
Create and save templates for future use
Features with

Gold

Card Access
With

Gold

Card Access
Borders and Corners™
Virtual Longarm™
Font Stitcher™
Template Designer
Fabric Compensation
More advanced Panto Stacker
Gold Pattern access
Pattern eClipse
Multi-pattern placement
Card Access Benefits
Take your quilting to the next level!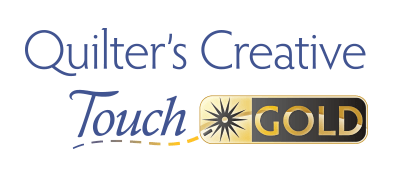 Gain access to everything Quilter's Creative Touch 5 has to offer by purchasing Quilter's Creative Touch 5 Gold Card Access
For customers who already have QCT5
Unlock additional benefits and features beyond QCT5 Standard.
Purchasing QCT5 Gold Card Access takes your quilting to a whole new level, with new exclusive creation tools and features. Get advanced control over pantographs, borders and corners, font stitching, and more! All Card Access holders also receive premium extras and benefits like exclusive patterns and more!
*Note: In order to subscribe to Gold, you must already own regular Quilter's Creative Touch 5.
With Card Access, you will also receive:

Access to special patterns only available to Card Access holders.
QCT Card Access newsletter for occasional promotions, discounts, and all the latest QCT news and deals.
Continued access to any and every new feature and any software upgrades and updates.