The Q-Zone Hoop-Frame
The simple and affordable option for convenient zone quilting
The Q-Zone Hoop-Frame is a high-quality frame that offers the flexibility of zone quilting, allowing you to create quilts of any size. It is also a compact 4.5 feet wide, so it can easily fit into your workspace. The available Pro Upgrade provides added benefits such as a dual-track system for improved stability and smoother movement for your machine across the frame.
*Machine Not Included*
Save this Month!
Only $1,199.00
Normally $1,799.95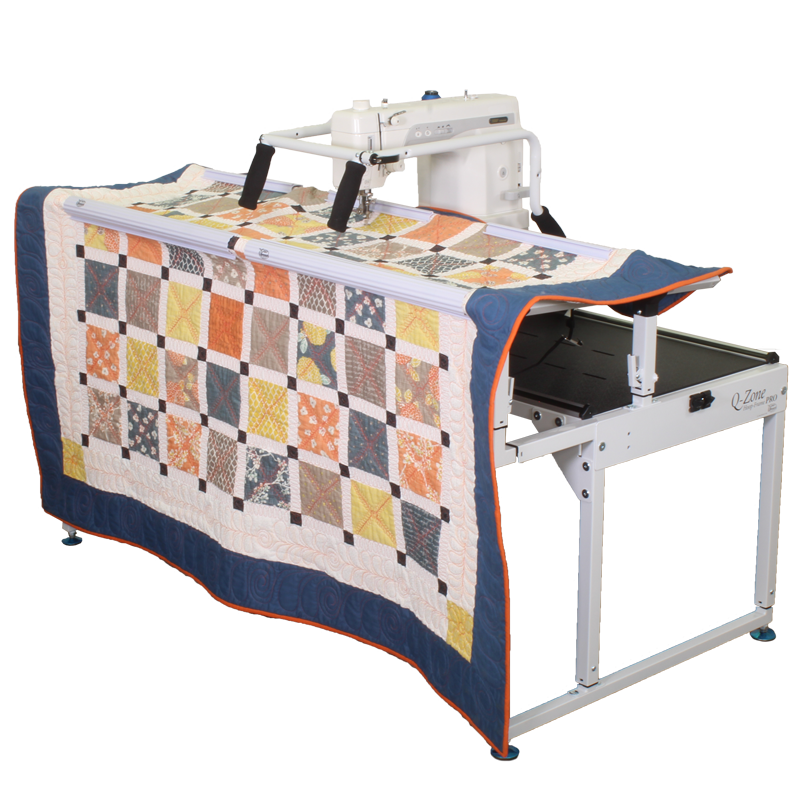 Is the Q-Zone Hoop-Frame +Pro Upgrade Right For Me?
The +Pro Upgrade provides a number of excellent benefits including a dual track system that creates a more stable and balanced quilting experience while the table inserts prepare the frame for additional helpful accessories. All while maintaining the compact size and versatility of the original Hoop-Frame.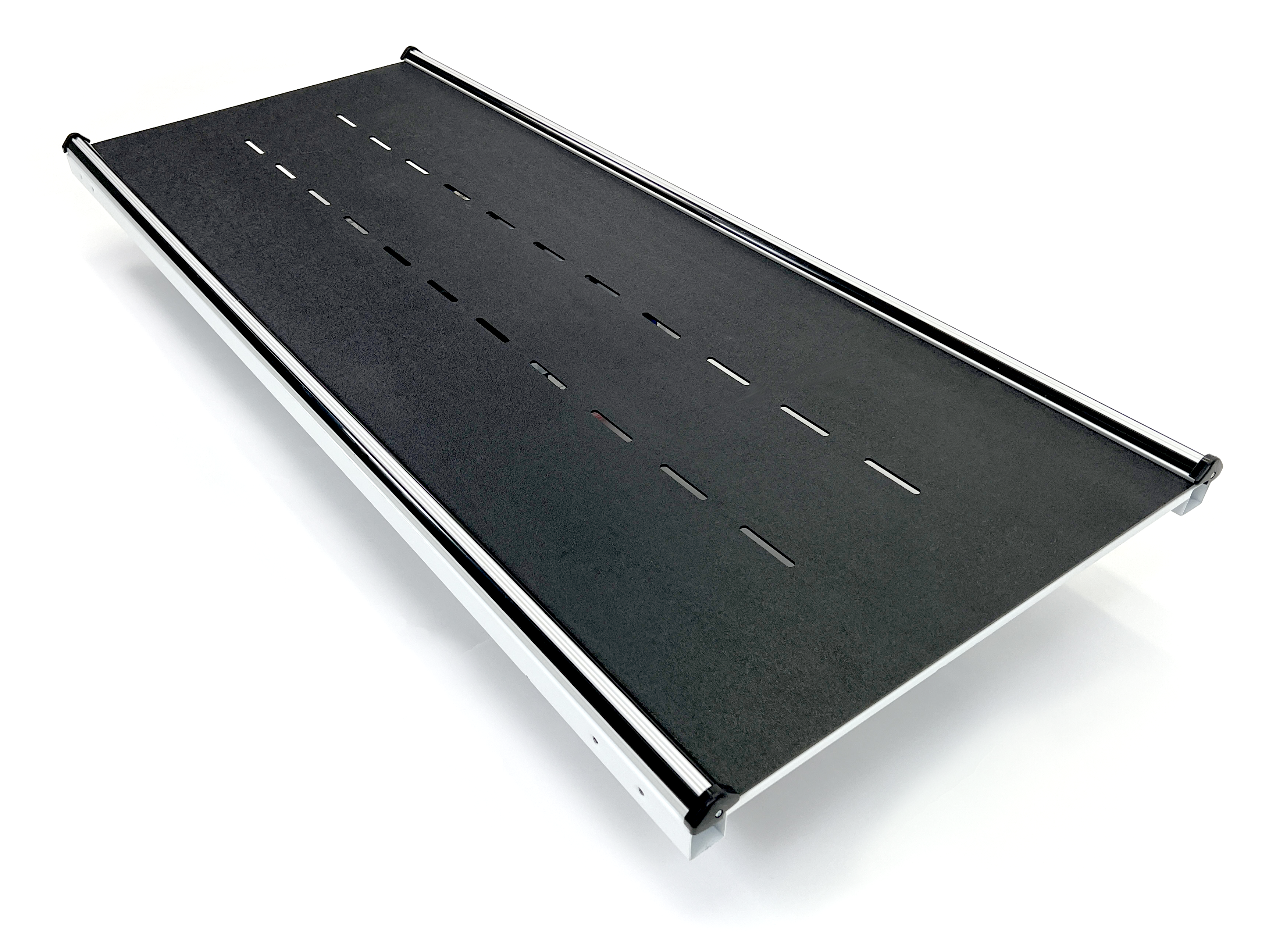 Don't Pay Someone To Finish Your Quilt
you can do it yourself!
Free Motion Quilting
Instead of one-way sewing, your machine glides freely over the fabric in any direction on your quilt.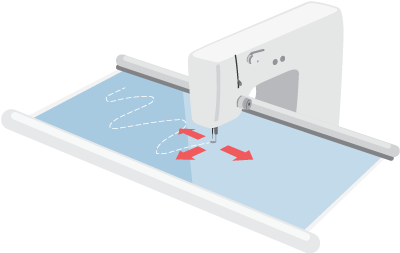 Smooth Motion
On domestic machines, feed dogs guide your fabric straight through the machine. By disabling these feed dogs and putting your machine on the Q-Zone Hoop-Frame carriage, you will be able to effortlessly move your machine across the fabric like a pen on paper.
Turn your domestic machine into a full free motion quilting system
Use your own machine
The Q-Zone Hoop-Frame is made to work with many quilting machines, from domestics to long arms with up to a 19-inch throat space.
Will Your Machine Work?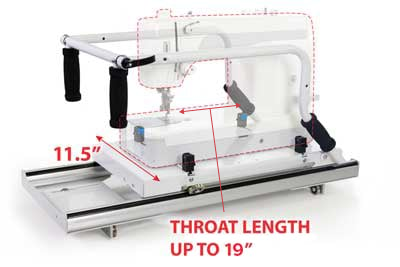 Does your machine fit the carriage?
Top plate and handles used for domestic machines.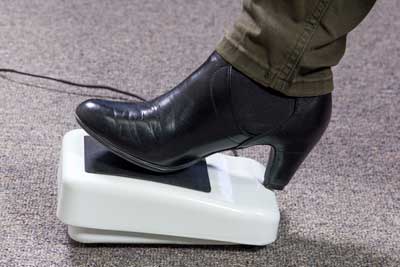 Does your machine have a foot pedal?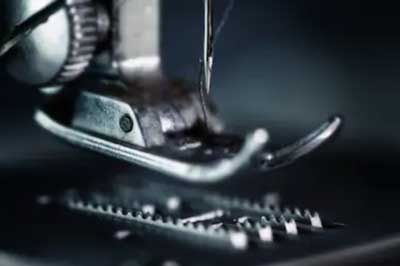 Can your feed dogs move down?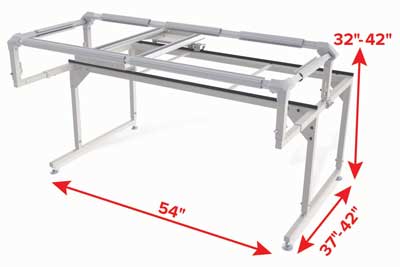 Do you have 4.5 ft of space in your home?
If you said yes to these questions
The Q-Zone Hoop-Frame could be right for you!
Got a Large Machine?
If your machine has a throat longer than 14", no problem! with our extendable handles, the Hoop-Frame can accommodate machines with up to 18". It can also fit our Q'nique 19 quilting machine.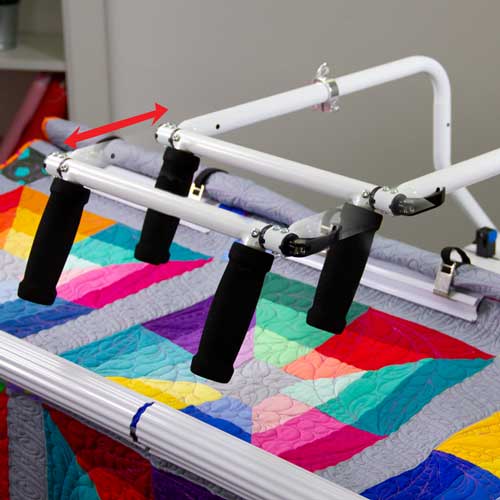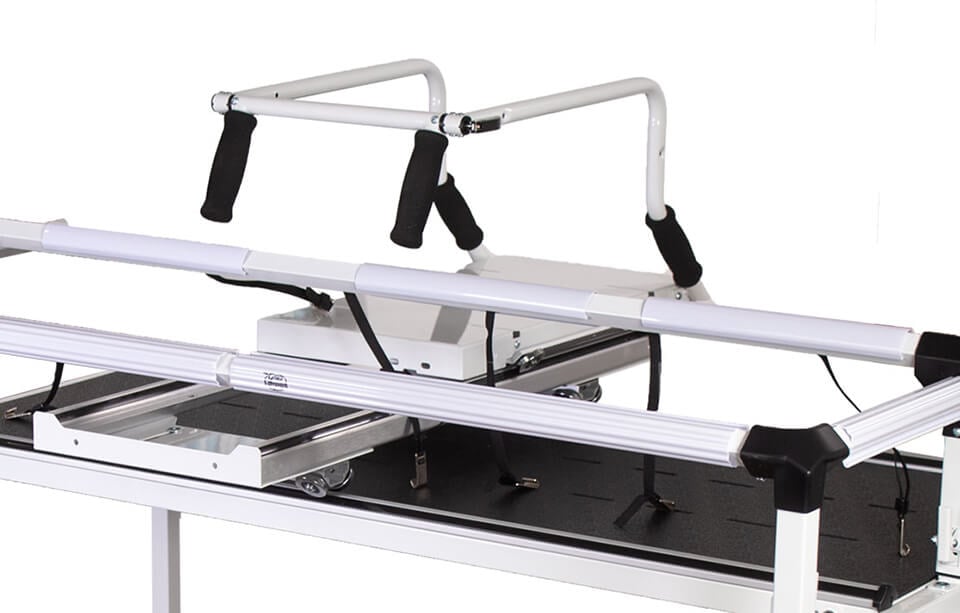 Carriage System
If you don't have a Q'nique machine, your trusty domestic machine will sit on the unique carriage system. This carriage will allow you to move around the fabric like you would any quilting machine.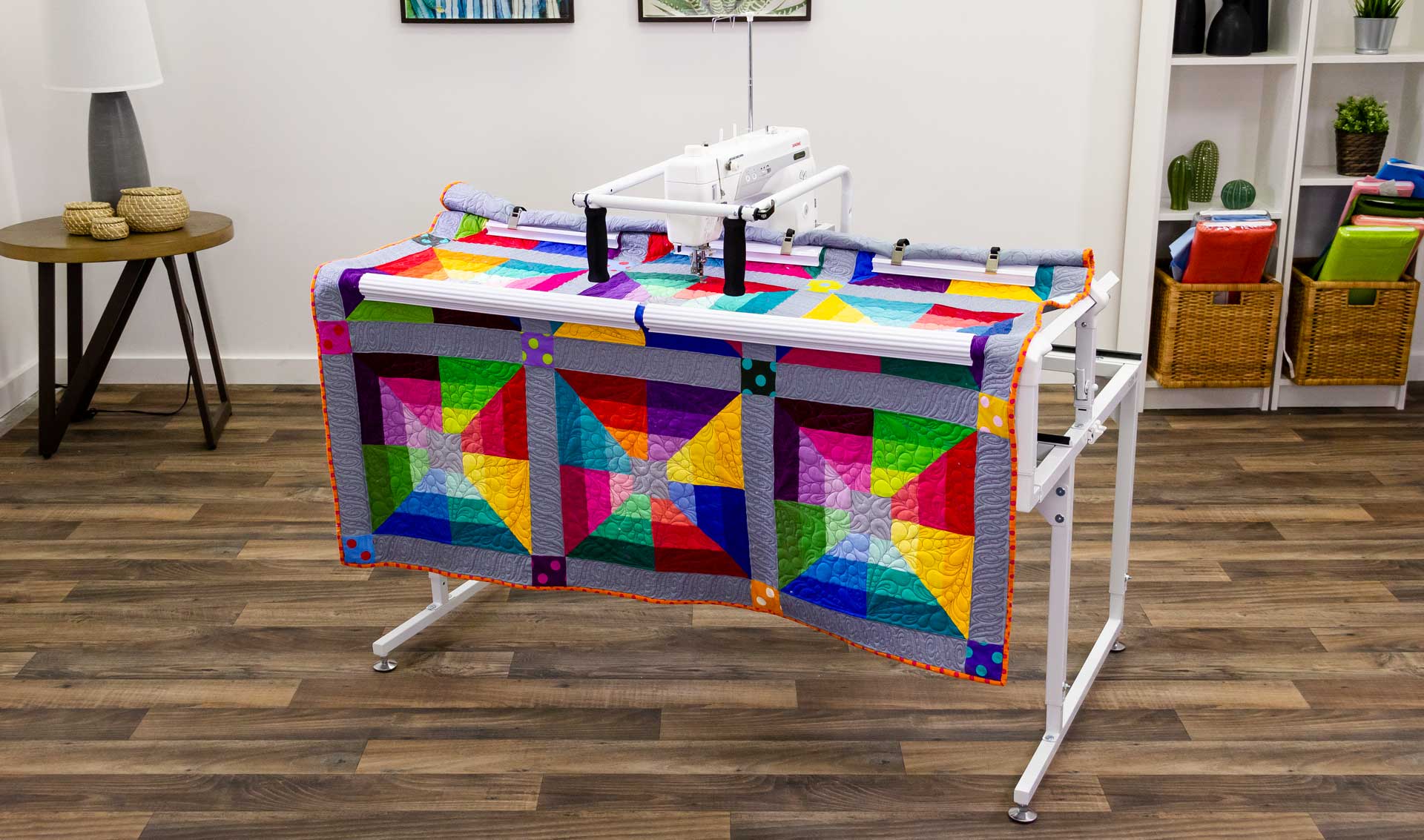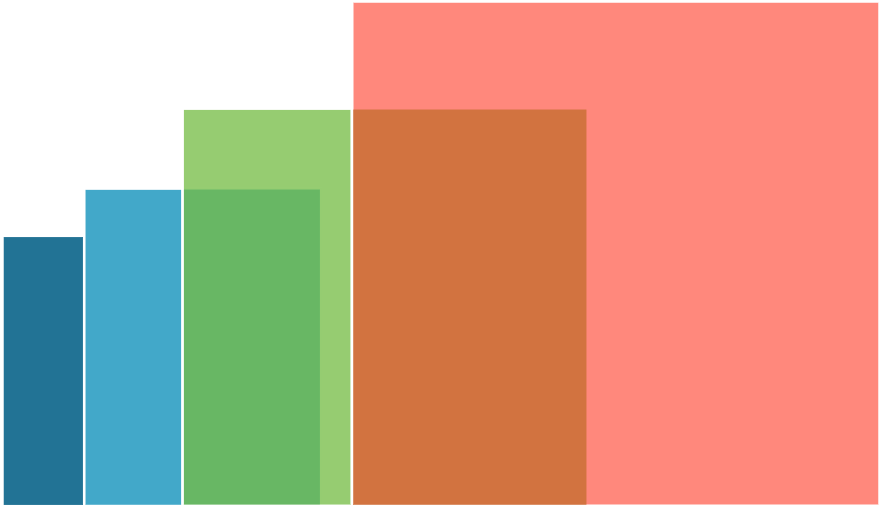 Any Quilt Size
Now the size of your quilt is no longer limited by the width of the frame! Quilt king-size and larger, all on this 4.5 ft frame, using our new zone-to-zone quilting method.
Will it Fit?
Unlike other frames, the Q-Zone Hoop-Frame
takes up no more space than a desk.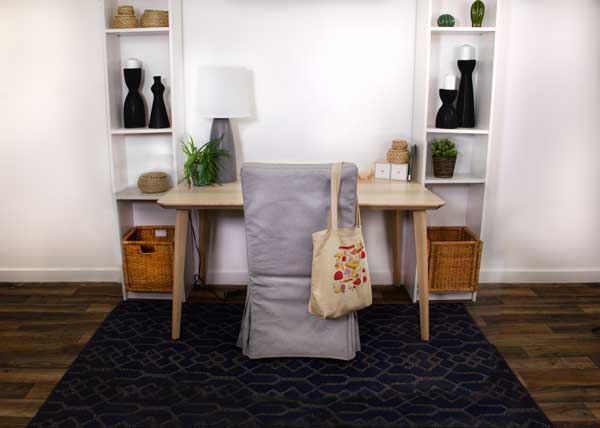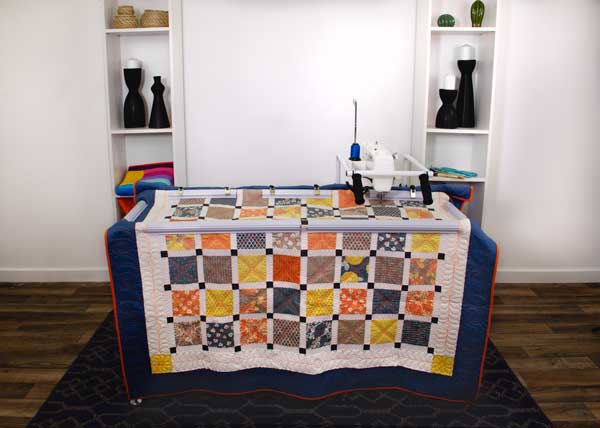 Q-Zone Hoop-Frame Size Specifications
Maximum Machine Throat Size
19 inches
How Much Space Do Frames Need?
Q-Zone Hoop-Frame
Only 4.5 FEET!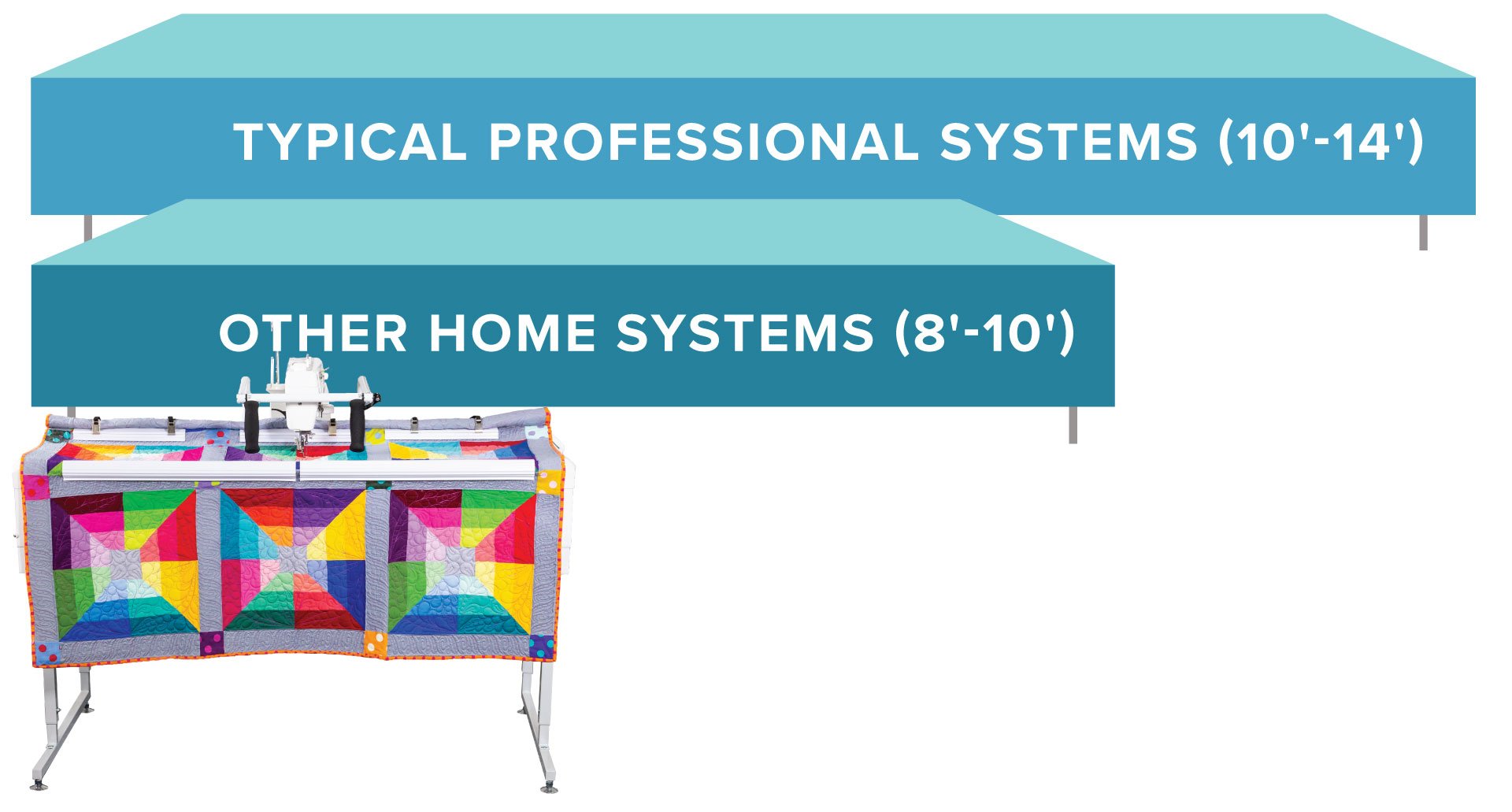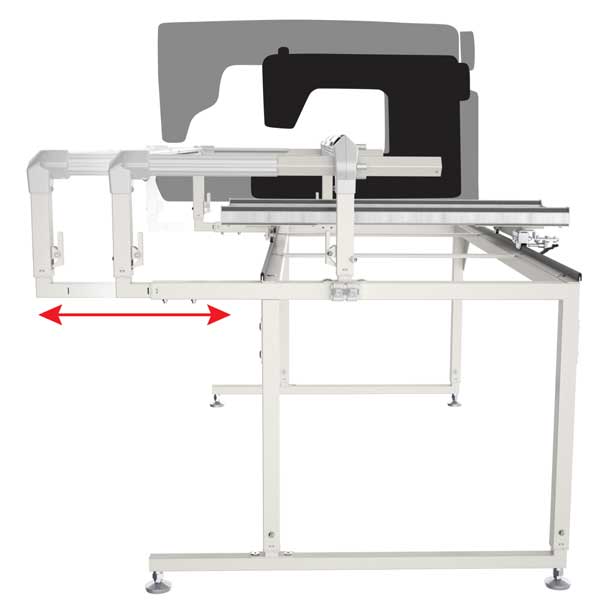 Adjustable Depth
Adjust the working area of your quilting frame to fit your machine. You can make it shorter for home sewing machines, or longer for midarm machines. The frame is compatible with machines with up to a 19 inch throat.
Work Sitting Or Standing
The Q-Zone Hoop-Frame can conveniently adjust to let you quilt in the way that is most comfortable to you. Quilt standing or from your favorite chair. While sitting, the small footprint of the frame will let you still reach both ends with your quilting machine.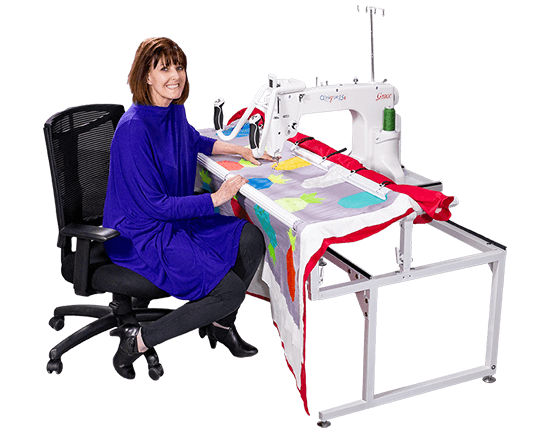 What Comes With It?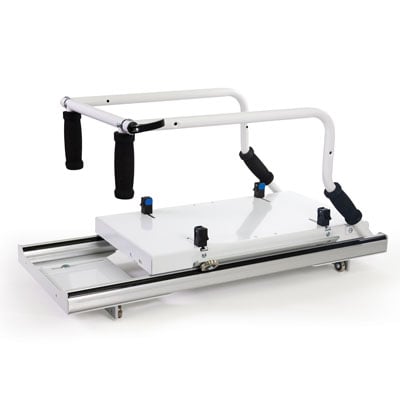 Carriage
The carriage is where your domestic machine is going to sit. if you are using a Q'nique quilting machine, you will not need the carriage.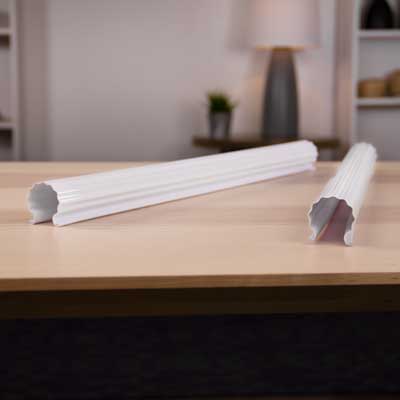 Quilt Clips
Quilt Clips will keep your fabric straight and give you perfect tension. Simply attach your fabric to your quilting frame with less pinning.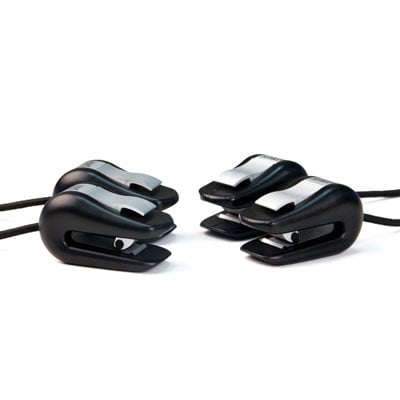 Bungee Clamps
The sleek profile makes these bungee clamps easy to attach and remove from your fabric. You can simply push the clamp right over your fabric to attach it, and push the new easy-release button when you want to remove it.
A full quilting system so you can start quilting straight away!
Add-on Accessories
Available for purchase separately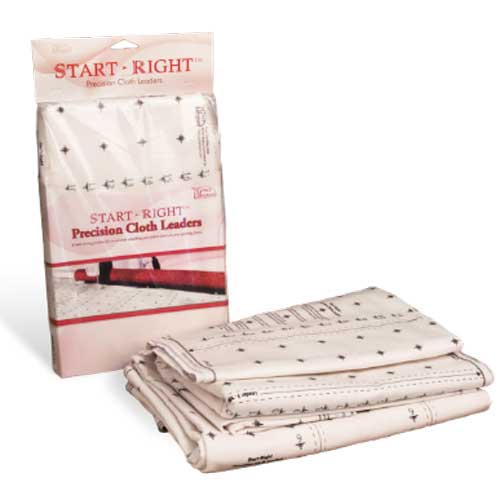 Cloth Leaders
A time-saving product to help you attach the fabric to your frame easily and accurately. Includes three king size cloth leaders printed with precise guide marks and pin lines. It includes a Velcro® attachment kit that is used to secure the cloth leaders to your frame.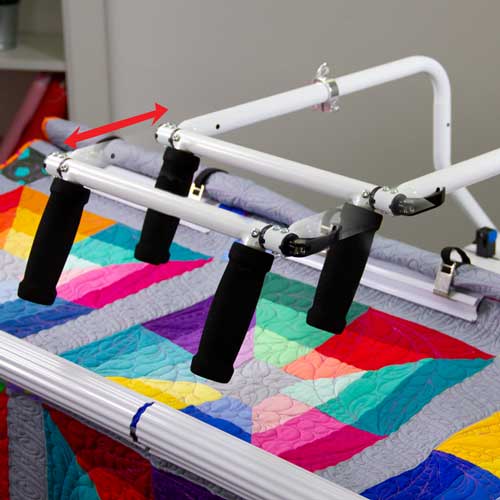 Expandable Handles
Upgrade to the extendable handles for the Q-Zone Hoop-Frame. This accessory works best for machines with throat lengths from 12" to 18".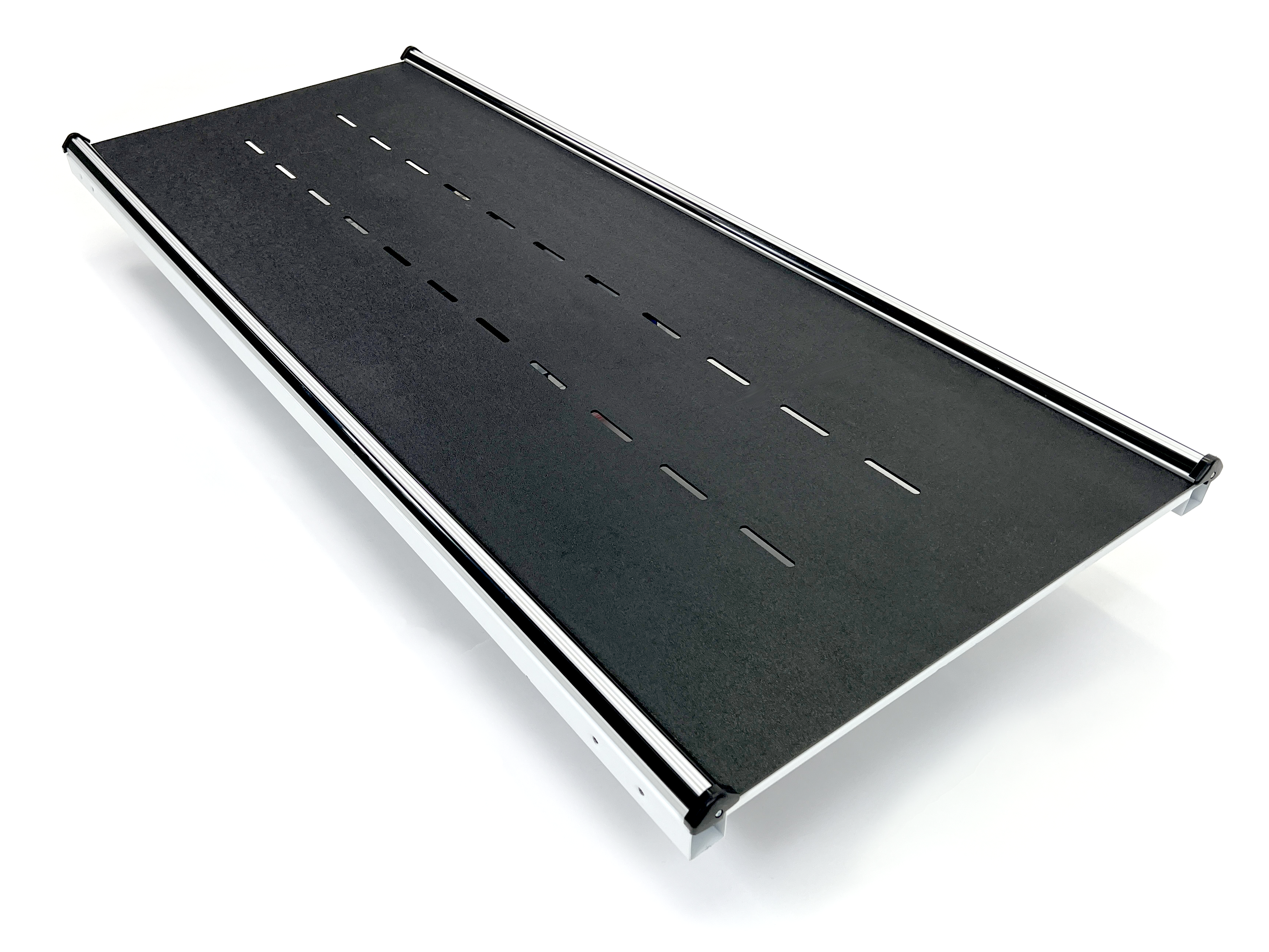 Table Inserts
Add a table-top surface to your Q-Zone for pantograph tracing and other uses from the back of your frame.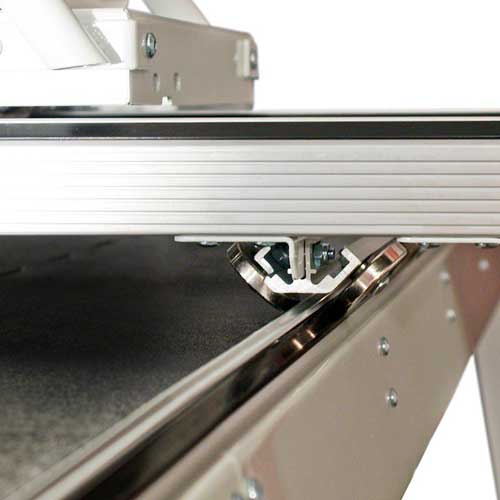 Dual Track Upgrade
The dual-track upgrade gives your machine the same level of control as other full-size professional frames in the market, enhancing stitching for more detailed, intricate patterns.